ANDREW COTTON BIO-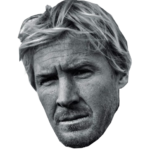 Andrew Cotton started surfing at the age of seven on the North Devon coast, born in Plymouth England (PLH).
His original focus was on helping to pioneer big wave spots in Ireland, and more recently he turned his attention to Nazare, Portugal.
He has garnered Numerous Billabong XXL entries.  Andrew came to wider attention in 2012 when he towed American surfer Garrett McNamara into what the Guinness Book of World Records confirmed as the biggest wave ever surfed. He also has a number of indisputably big waves under his belt, one or two of which have caused debate in the press as to whether they are even bigger than Garret's record.
While surfing in Nazaré in November 2017, Andrew broke his back on a horrific wipeout. Since the accident, Andrew has been focused on regaining his strength to make a return to surfing – and to Nazaré. And in November 2018, he did just that: Andrew took on Nazaré's mammoth waves once again – an experience that saw him overcoming any doubts or fears and realising that he's more prepared than ever for the winter season.
Andrew Cotton has been helping to push the boundaries as to what was thought possible in big wave surfing,  and put Great Britain firmly on the surfing map.
ACHIEVEMENTS:
2014
Billabong XXL Big Wave Awards Nominee
Biggest wave: Nazaré, Portugal
2012
Billabong XXL Big Wave Awards Nominee
Biggest wave: Mullaghmore Head, Ireland
Casio G-Shock Spirit of Toughness Award
Ambassador of British Surfing
---
Comments