JUSTINE DUPONT BIO-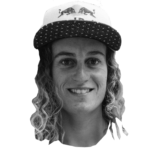 Justine Dupont is a French professional surfer.
After being crowned longboard vice world champion in 2007 at the age of 15. She then obtained the title of vice world champion, this time in the big wave surfing division in 2016.

Considered one of the best female big waves surfers in the world, Justine is also several times European and French champion.  Both in Surfing and Longboarding divisions.

She has recently competed at the European Stand Up Paddle Surfing Championships and finished in second place.

She has several times beaten the record of the biggest wave surfed in the world by a woman.

In 2017 she was crowned ISA World team Surfing Champion with French team.
Justine divides her time between her adventurous waterwoman life, the search for big waves and competitions with the French team in order to qualify for the 2020 Olympics.ch team in order to qualify for the 2020 Olympics.
ACHIEVEMENTS 
2017
ISA surf team World Champion
Aloha Cup World Champion with French team
Stand Up Paddle team European Champion
European Stand Up Paddle Surfing Championships : 2nd
LQS Boardmasters Jeep Women's Longboard : 1st
WQS 1000 Caparica Pro, Portugal : 1st
2016
WSL Big waves World Championships, Pea'hi, Hawaii : 2nd
WQS 1000 Central Coast Pro, Avoca Beach, Australia : 1st
WQS 1500 Azores Airlines Pro, Açores, Portugal : 1st
2015
National surf Champion
National longboard Champion
2014
European Longboard Champion
LQS Vieux Boucau Longboard festival, France : 1st
2013
World longboard championships, China : 3rd
World longboard ISA team Champion with France, Peru
2012
WQS 6000 Surf Pro Estoril, Cascais, Portugal : 1st
2011
European Surf Champion
2010
World longboard ISA championships, Biarritz, France : 3rd
National surf Champion
National longboard Champion
---
Comments