JAMIE MITCHELL BIO-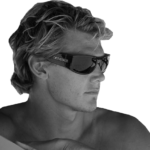 Hailing from Coffs Harbour in New South Wales, Australia and now residing on the North Shore of Oahu, Jamie has been in the surf world for a long time and is a Renaissance man in terms of wave riding.
Kelly Slater is quoted saying Jamie is "one of the greatest unknown sportsmen of all time.  Ten years he has won the Molokai channel paddle race … his winning percentage is higher than anyone in any sport ever."  Jamie loves and excels at ocean paddling, big wave riding, towing in, stand up paddling, using foil boards, and canoe surfing.
Jamie has won ten consecutive Molokai to Oahu Paddle board World Championships. Since 2002 he has won basically every major paddle board race he has entered.
In 2007, a giant beast of a wave Jamie rode at Todos Santos, Mexico earned him a nomination into Billabong's annual XXL Big Wave awards. It was quite an honour. From hundreds of video and photographic entries, just five were nominated in the "Monster Paddle In" category, proving once again Jamie's arms – and almost certainly, his man-sized heart – are among his greatest assets.
Surfer Magazine in the USA suggested the session was possibly the heaviest paddle sesh ever, which saw Jamie and fellow Quiksilver team rider Mark Healey take some of the worst wipe-outs of their lives and get caught inside numerous occasions.
Jamie has also been a presence at Nelscott over the last few years, and can be seen almost every year now surfing or paddling Oregon's Nelscott Reef. Picture above is one of his many great shots taken by Richard Hallman.
Recently, he has been competing on the World Surf League's Big Wave tour, taking 5th at the 2015 Titans of Mavericks, 4th at The Eddie, and nominated for the 2016 Surfline Best Overall Performance Award.
Jamie also has his own line of paddleboards created by master shaper Adrian Birse, JM Paddleboards Jamie Mitchell might be more comfortable in water than he is on land. Actually, he's won pretty much every major paddling race in the world.
He's used his fitness and aptitude for water to become one of the best big wave surfers in the world. He's so fearless because he's so comfortable, which lead him to the podium at the first ever BWWT event at Nazare in 2016. The conditions were wild and dangerous. Just the way Jamie likes it.
ACHIEVEMENTS 
10x Molokai to Oahu Paddle board World Champion
2017 Surfline Men's Overall Performance Award
2- XXL (Global Big Wave Awards) entrys.
2016 2- XXL WSL Big Wave Award Entrys
2007 Billabong's XXL Big Wave awards entry.
2002 Jamie  claimed the first of six consecutive US Paddle boarding Championships.
---
Comments