CitySurf Indoor Surf  Experience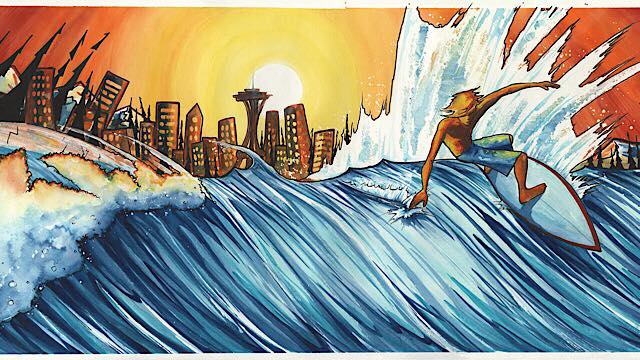 Xtreme Amateur Games and CitySurf are working together to bring you something very special this summer 2018.
If you know about the XAG then you can probably guess what we are talking about…
In the meantime check out what they have going on this spring!
Article from 425magazine.com
CitySurf co-owner John Hoss developed the Rogue Wave, which is similar to river surfing in Oregon, Idaho, and Colorado, but can create waves higher than what you would get with mother nature. The expansive facility will offer surfing for beginners and advanced water enthusiasts, and the size of the waves will be adjusted accordingly — generally 3- to 5 1/2-feet tall. The 1 1/2-hour surfing experience is broken into three parts: stretch, surf, soak. The stretching is yoga inspired exercises to activate muscles and receive a safety briefing, the surfing will allow a queue of 12 surfers to ride the waves, and is followed by 35 minutes to soak in the hot tub. The Hosses said they plan to offer events, kids parties, and camps.
Owners John and Trisha Hoss also have partnered with Jason Stoneburner, a celebrated chef and restaurant owner in Seattle, for an in-house restaurant catered to spectators. When researching indoor surf facilities, John Hoss noticed there were more spectators than there were participants.
"The goal was to also create an environment where people can hang out and have a meal or a glass of wine and watch their kids," John Hoss said. "We're trying to provide an experience that's wrapped around action. There are certain times of the year (in this area) where there's not enough to do. Kids can unplug and parents can unplug. There's music, drinks, and there's action and entertainment."
John Hoss got the idea to create the park when he was helping a client do research for a water park in Eastern Washington. He tested surf machines in other states, but wasn't impressed. The pools were shallow, only a couple inches deep, and it felt more like standing on a trampoline surface with water shooting at your feet. Because it was so shallow, participants had to wear elbow pads and helmets and it hurt to fall. Then he was invited to test a surf machine in Europe, and a yellow light bulb went off after trying it. The European machine fulfilled the effect of deep water surfing, and there was nothing like it in the U.S.
Hoss's machine pushes out 250,000 gallons of water a minute, and is several feet deep, so there's no need for protective gear.
"When you add that with the secret sauce of our machine, it creates a wave that you're really only limited by how big (King County and insurance companies) will allow your wave to be," John Hoss said.
Trisha Hoss said they're in the permit process of building the facility, and have a patent-pending on the Rogue Wave surf machine.
If all goes according to plan, the two-story facility and restaurant will be open around spring break. Check out the CitySurf Facebook page for updates and information.
Comments